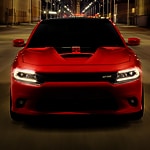 The Dodge Charger is a four-door car, but it's more than just that. It can actually be equipped so that it's the most powerful sedan you'll find on the roads. At Ramey Chrysler Dodge Jeep, we carry many trims of the Dodge Charger, each offering their own advantages.
Our lower trims run on 3.6-liter V6 engines. We call this the "standard" engine, but it's anything but basic. It can have up to 300 horsepower and 264 pound-feet of torque, and it can work with an all-wheel drivetrain.
All the other engines are V8s. There's a 5.7-liter V8 that'll give you 370 horsepower and 395 pound-feet of torque, and there's an even larger V8 that delivers 485 horsepower and 475 pound-feet of torque. Finally, there's a supercharged V8 in our Hellcat models. It's hard to believe it, but this massive engine will give a Dodge Charger 717 horsepower and 650 pound-feet of torque.