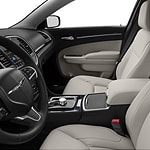 After our team member takes you on the test drive of the Chrysler 300 at Ramey Chrysler Dodge Jeep through North Tazewell, you can start customizing it for your needs. You can even customize the interior of this vehicle with the 10 different options that are available just for the seating of the cabin alone.
The seating, no matter what choice you make, is leather, and you can opt in to allow heated seating for every passenger, though the front seats have heated seats as standard. The steering wheel is also available as heated and made out of leather if you choose this option.
Your passengers will be so happy to ride in your new sedan as they will always be comfortable through the dual temperature controls that are also standard. They can be entertained through the 8.4-inch touchscreen that is compatible with any smart device, whether it just has Bluetooth abilities, Apple CarPlay abilities, or Android Auto abilities.