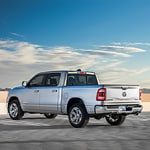 Our Ramey Chrysler Dodge Jeep team consists of die-hard Ram 1500 fans. It's our go-to pickup for worksite chores, for hauling around heavy tools and machines and for seasonal plowing. It's the Ram 1500's safety, tech and durability features that impress us every time, durability features such as those mentioned below.
Class-Exclusive Air Suspension System
Active-Level Four Corner Air Suspension is the Ram 1500's dynamic suspension system. It automatically lowers the vehicle at highway speeds. This enhances efficiency by reducing drag. The system also works at your command. You can use it to lower the Ram 1500's height when climbing into the cab, reaching into the bed, entering a parking garage or hitching up a trailer.
Ridiculous Towing and Hauling Capacities
Have you ever dreamed of towing a camper out of North Tazewell to an extremely remote destination? If you ever do, the Ram 1500 is your pickup. Its max payload is 2,300 pounds, and it can tow up to 12,750 pounds. The secret is its high-horsepower, high-torque HEMI engine and its high-strength steel frame. Both qualities make the Ram 1500 one of the most durable pickups on the market.